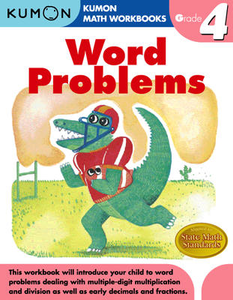 Kumon Math Workbooks: Grade 4 Word Problems
This workbook will introduce your child to word problems dealing with multiple-digit multiplication and division as well as early decimals and tables & graphs.
Kumon Thinking Skills Workbooks were developed in coordination with the Kumon Method, a learning system designed to help each child reach his or her full learning potential.
Skills are introduced in a step-by-step manner that allows your child to develop each in turn without frustration.
Through Kumon Workbooks, children gain confidence in their abilities and are motivated to learn on their own.
We believe in creating the best possible products for children, so our workbooks never compromise on content or quality.