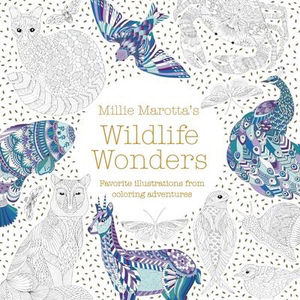 Millie Marotta's Wildlife Wonders: Favorite Illustrations from Coloring Adventures
From New York Timesbestselling author Millie Marotta, whose books have sold more than 8-1/2 million copies worldwide: a collection of her best-loved wildlife illustrations!
 
Millie Marotta's art celebrates the natural world, with remarkably drawn animals, plants, and landscapes. In response, colorists everywhere have devised dazzling palettes, inventive techniques, and imaginative ideas to bring her intricate images to life. This special collection honors that creative community, gathering the drawings from Millie's five previous coloring books that inspired them most. From a mighty African elephant to a tiny field mouse, a flamboyant flamingo to a wide-eyed bush-baby, every one of Marotta's breathtaking images will encourage beautiful new interpretations.