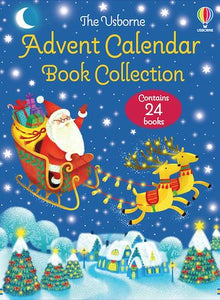 Usborne Advent Calendar Book Collection 2
A brilliant value pre-Christmas gift with 24 books that will keep young readers enchanted.
This luxury advent calendar contains a beautifully illustrated storybook behind each window. Count down the days to Christmas with magical tales of princes and princesses, dragons and dinosaurs. As the big day approaches, there are festive treats, including a retelling of Jingle Bells, with a QR code so you can sing along; and Charles Dickens' classic ghost story, A Christmas Carol, specially rewritten for little ones. The full set of 24 books forms a miniature library that can be treasured and enjoyed for many years to come.