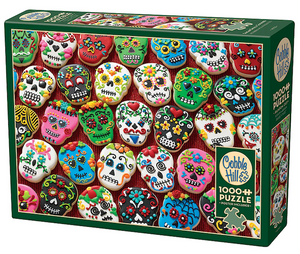 Sugar Skull Cookies 1000pc (2023)
Now you can honour The Day of the Dead with these wildly popular Sugar Skull Cookies! An original work of art makes this 1000 piece puzzle a unique way to enjoy the Mexican celebration!
Piece Count: 1000 Piece
Item Code: 40122
Box Size: 8.25" x 11.25" x 2.0"
Assembled Size: 26.625" x 19.25"
Poster Size: 10" x 14"
Puzzle Cut: Random/Quirky
Finish: Linen Print
Artist: Cobble Hill Creations