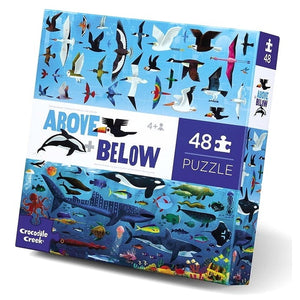 Above and Below: Sea and Sky 48pc
The Above Below puzzle by Crocodile Creek shows which animals swim in the sea and which birds fly above the sea. The puzzle consists of 48 large puzzle pieces measuring 10 x 10 cm and is suitable for children aged 4 and up.
TIME FOR DISCOVERY AND WONDER- a unique puzzle concept from Crocodile Creek guaranteed to delight kids. These eco-friendly puzzles teach kids as they have fun while learning about the world above of winged creatures and the world below of creatures of the deep.
CREATURES ABOVE AND BELOW – EAGLES & PARROTS - WHALES & SHARKS –Not only is it a fun beautifully illustrated puzzle, but it's also a great way to learn more about the birds above and the sea creatures below. Eagles & Sharks! Flamingoes and Whales! Toucans and Dolphins!