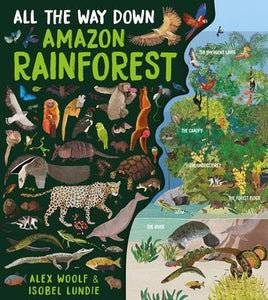 All the Way Down: Amazon Rainforest
All The Way Down is an ingenious new information book series looking at different ecosystems, from the organisms that live near the top to the creatures that dwell near the bottom.

Amazon Rainforest explores the different layers of the world's largest rainforest, from the birds and flying insects that live in the canopy to the creepy-crawlies, reptiles, and fish that lurk in the lower depths and the streams and rivers. The book also explores how the Amazon rainforest is endangered by issues including deforestation, pollution, and climate change, raising young readers' awareness of conservation and environmental issues.