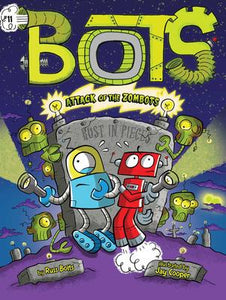 Bots # 11: Attack of the ZomBots!
Joe and Rob live it up with the ZomBots in this eleventh adventure in the hilarious Bots chapter book series.

Many years ago, scientists on Earth sent video satellites out to the end of the universe to see what was hiding in deep space. Now, years later, these satellites have begun sending their first videos back to Earth...and the stars of the show are two goofy robots.

Joe and Rob think they are ready for the Scare Dare Contest, but when they accidently read aloud a magic spell that calls the ZomBots, the two best friends must face off against a really creepy crowd!

With easy-to-read language and graphic novel art on almost every page, the Bots chapter books are perfect for emerging readers.