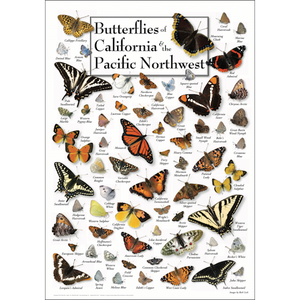 Butterflies of California & Pacific Northwest – Poster
19″ X 27″ overall size. Shipped in a heavy-walled 2″ mailing tube with plastic endcaps
This stunning poster includes 64 species of butterflies – both common and exotic – found in California up to an including British Columbia 
Printed on 80# coated stock using fade resistant inks and the highest production values, it is truly museum quality and suitable for framing
Images by Rick Cech, well known naturalist and butterfly expert, author of Butterflies of the East Coast (Princeton University Press, 2005). Visit http://www.butterfliesarestillfree.com for more information on Mr. Cech.