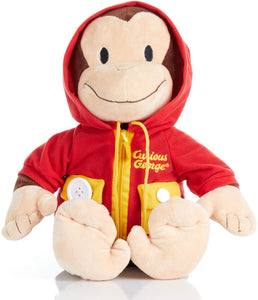 Curious George - Learn to Dress George
FUN FRIEND: Children will love to dress this stuffed animal George in his iconic red and yellow coat with "Curious George" embroidery. It's an educational toy and classic friend all in one!
HANDS-ON LEARNING: The Curious George Learn to Dress plush is a hands-on learning toy that teaches toddlers how to do some of those basic functions that they will use throughout their lives.
DRESS UP: This plush has a red hoodie sweatshirt with 4 simple dressing parts: zipper, snap, button, and tie. The sweatshirt is also removable, which is another skill for toddlers to learn.
LEARN AND PLAY: Learning simple dressing skills like snapping, zipping, tying, and buttoning up has never been so much fun! The Curious George Learn to Dress is for ages 2 years and up. Machine wash.
CURIOUS MONKEY: Curious George has captured the hearts and imaginations of babies, kids, and adults for more than 75 years, and now you can bring home this classic favorite for your little one.