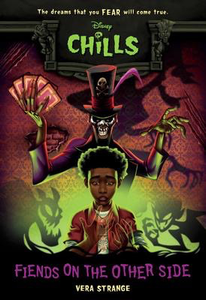 Disney Chills # 2: Fiends on the Other Side
"I know many things. Including the fact that you have something that belongs to me . . . ."
Twelve-year-old Jamal has always lived in his twin brother, Malik's, shadow. All he wants in the world is to know, just for one day, what it's like to be his more popular, more talented, and more confident brother. So when a mysterious man named Dr. Facilier appears and offers Jamal the opportunity to do just that, Jamal jumps at the chance. But when he wakes up the next morning to find his dream has come true, he learns it comes at a terrible cost. There's a reason people say "Never make a deal with the Shadow Man." And Jamal is about to find out why.
Grab your night-light, dear reader, and prepare to be CHILL-ed!