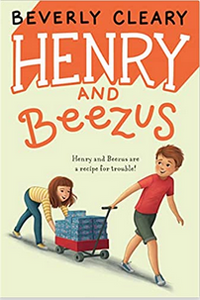 Henry Huggins #2: Henry and Beezus
Newbery Medal winner Beverly Cleary tells the story of a boy with a goal—and the girl who helps him achieve it.

Well-meaning Henry Huggins would do anything to get the bike of his dreams. But every idea he has keeps falling flat. Selling bubble gum on the playground gets him in trouble with his teacher. There's the paper route, but Henry's dog Ribsy nearly ruins that with his nose for mischief.

Even pesky little Ramona Quimby manages to get in the way of Henry's chance at a bike. But it's with the help of his best friend Beezus that there may be a way. After all—with a friend by your side, anything is possible.

Don't miss the beloved classic Henry Huggins books from Beverly Cleary. Boys and girls alike will be charmed instantly by an average boy whose life is turned upside down when he meets a lovable puppy with a nose for mischief. These are truly classics that stand the test of time and still leave readers 7-13 smiling.
Note: cover art shown may differ from product due to recent re-release of the Beverly Cleary Collection.