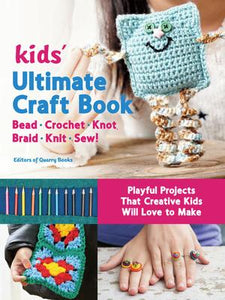 Kids' Ultimate Craft Book: Bead, Crochet, Knot, Braid, Knit, Sew! - Playful Projects That Creative Kids Will Love to Make
The perfect guide to crafting with kids, Kids' Ultimate Craft Book starts with the absolute basics, then gradually introduces skills and techniques so kids can create fantastic projects with beading, braiding and knotting, crochet, knitting, and sewing.
Beading. Begins with beads, charms, and pendants, moves on to working with thread and wire, then shows how to make a tiara, a button ring, a skater cuff, and more.  
Braiding and Knotting. Demonstrates techniques for creating with different cords and fibers to make necklaces, leashes, and key chains.
Crochet. Starts with an overview of hooks and yarns, then shows how the most basic crochet stitches can be used to create a bracelet, a bookmark, and a water bottle carrier.
Knitting. Following an overview of essential stitches and concepts, including how to read a pattern, are designs for coasters, a washcloth, and a cowl.
Sewing. Teaches simple hand sewing, then gradually introduces the skills kids need to sew safely and confidently with a sewing machine to make a pot holder and a fabric frame. 
Projects are rated for difficulty so kids can learn and grow as they build skills and develop dexterity and confidence.

With 400 photos and clear, concise instructions, Kids' Ultimate Craft Book lets you and your child collaborate to create crafty projects together!