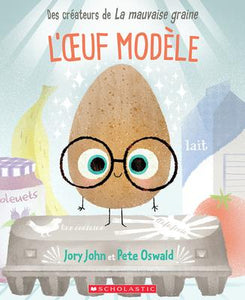 L'oeuf modele (The Good Egg)
See below for English description.

Être une bonne personne… Qu'est-ce que cela signifie? Découvrez l'oeuf modèle, celui qui aide ses amis et ne veut jamais se disputer, même si pour cela, il doit réparer les erreurs des autres. Un jour pourtant, il en a assez. L'oeuf modèle décide qu'il ne peut pas être le seul bon élément d'une boîte remplie d'oeufs avariés. Il commence alors un voyage vers la découverte de lui-même…

Écrit par les créateurs de La mauvaise graine, figurant au palmarès des meilleures ventes du New York Times, cet album charmant enseigne aux enfants à prendre soin d'eux-mêmes avant de prendre soin des autres.



What does it mean to be good? Is it ever possible to be too good? Meet L'oeuf modèle, oe attached, a helpful egg who always wants to keep the peace, even if that means fixing others' mistakes. But one day, he has enough and decides that he can no longer be the only good egg in a carton of bad ones. What will he learn on his journey of self-discovery?