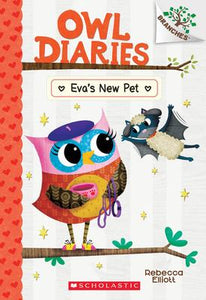 Owl Diaries # 15: Eva's New Pet: A Branches Book
Eva Wingdale is getting a new pet, in this bestselling early chapter book series just-right for emerging readers!

Pick a book. Grow a Reader!

This series is part of Scholastic's early chapter book line, Branches, aimed at newly independent readers. With easy-to-read text, high-interest content, fast-paced plots, and illustrations on every page, these books will boost reading confidence and stamina. Branches books help readers grow!

Eva can't wait to get a new pet! But she can't decide what kind of pet to get. Her pet needs to be cute, cuddly, friendly... and, of course, get along with her bat, Baxter. Eva's friend Lucy has a great idea: They will pet-sit for all their friends to find out which animal is right for Eva! Chaos breaks out as they look after a bumblebee, a tortoise, a goldfish, and more. Will Baxter be able to help Eva discover which pet is just-right for their family?

Rebecca Elliott's sweet text and full-color artwork on every page bring this story to life for young readers!