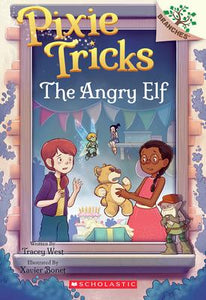 Pixie Tricks #5: The Angry Elf: A Branches Book
New York Times bestselling author Tracey West's sparkly Pixie Tricks series is filled with magic and adventure, making it perfect for fans of her Dragon Masters series!



Pick a book. Grow a reader!

This series is part of Scholastic's early chapter book line, Branches, aimed at newly independent readers. With easy-to-read text, high-interest content, fast-paced plots, and illustrations on every page, these books will boost reading confidence and stamina. Branches books help readers grow!

Fixit is a grumpy elf and he's messing with all the toys in town. Robots are crying and dolls are mooing like cows. Another fairy named Rusella is messing with everyone's messages. Will Violet and Sprite be able to stop these two sneaky fairies before they mess up everything -- for good? With engaging black-and-white artwork on every page, kids won't be able to put down this magical adventure!

This is an exciting refresh of the popular Pixie Tricks series, with updated text and brand-new art on every page -- perfect for fans of Tracey West's Dragon Masters series.