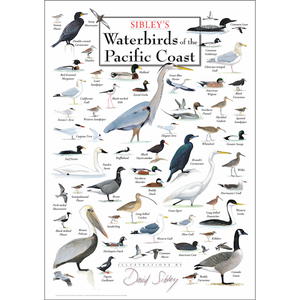 Sibley's Waterbirds of the Pacific Coast – Poster
19″ X 27″ overall size. Shipped in a heavy-walled 2″ mailing tube with plastic endcaps.
This stunning poster includes multiple illustrations for the 52 most common waterbirds of the U.S. and Canadian Pacific coast
Illustration by David Allen Sibley, America's most widely respected bird illustrator and ornithologist. See http://www.sibleyguides.com for more information
Printed on 80# coated stock using fade resistant inks and the highest production values, it is truly museum quality and suitable for framing.