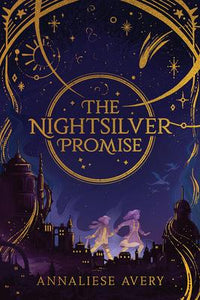 The Nightsilver Promise: Celestial Mechanism Cycle #1
The first book in a brand-new, richly-immersive, magical fantasy trilogy from debut author Annaliese Avery, perfect for fans of Philip Pullman, Cornelia Funke, and Diana Wynn Jones.

London, the Empire of Albion. The Great Dragons of old are long-gone. Now the world is governed by the science of Celestial Physicists, and everyone's life is foretold by the track on their wrist.

When thirteen-year-old Paisley discovers from her track that she is destined to die, the race is on to protect her dragon-touched brother and find her missing mother. But an ancient power stalks the sewers of London, and the Dark Dragon is rising, intent on restoring the Great Dragons and destroying Paisley's family and her world forever.



In a world where science rules and dragons fear to tread, Paisley must trust her instincts and forge new friends, as she attempts to outrun fate itself.