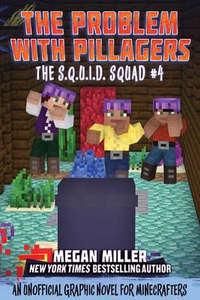 The S.Q.U.I.D. Squad # 4: The Problem with the Pillagers: An Unofficial Graphic Novel for Minecrafters
For boys and girls who love Minecraft, the fourth book in a new series by New York Times bestselling author Megan Miller that uses over 750 images to transport young readers into the world of the game they love most.
 
Max, "Inky," and Luke are the youngest members of a secret underwater society dedicated to protecting the books and artifacts of their home from evil invaders. They call themselves the S.Q.U.I.D. Squad, and they never turn down a dangerous adventure.
 
When Pillagers establish an outpost not far from the Book Guardian's hidden ravine headquarters, it's time for the S.Q.U.I.D Squad to swim into action. When their plans to outwit and scare the Pillagers fail, they must turn to the help of a mysterious captive of the Pillagers, the Talker. But the Talker seems to have devious plans of her own.