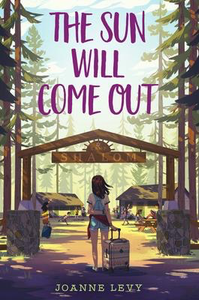 The Sun Will Come Out
Twelve-year-old Bea Gelman and her best friend Frankie are planning the BEST SUMMER EVER at Camp Shalom—a sleep-away camp. But at the last minute, Frankie bows out, leaving painfully shy Bea on her own. Just talking to strangers causes Bea to break out into ugly, blotchy hives. As if the hives weren't bad enough, Bea gets pranked by a couple of girls in her cabin and is betrayed by someone she thought was a new friend. Bea has had enough! She decides to spend her summer in the infirmary far away from everything that's stressing her out. No more boys (including her crush, Jeremy), no more horrible mean girls, and no more fake friends! At the infirmary, Bea meets Harry, a boy facing challenges way more intense than stress breakouts. Inspired by Harry's strength and positive outlook, Bea decides to face her fears—in a big way.

The Sun Will Come Out is a funny and heartwarming account of a shy girl's first summer away from home, where she learns she really can do anything and that silver linings can be found just about anywhere.