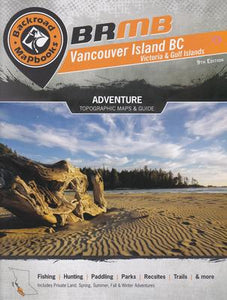 Vancouver Island Backroad Mapbook 9th Edition
"This 208 page backroad mapbook includes 56 maps at 1:150,000 and 7 maps at 1:300,000. Map features include highways, logging roads, land & water features, parks, adventure points of interest, campgrounds, hiking trails, motorized trails, paddling routes, hunting & fishing areas, winter recreation and more.. Areas covered include Alert Bay, Campbell River, Chemainus, Comox, Courtenay, Duncan, Gulf Islands, Gold River, Lake Cowichan, Nanaimo, Parksville, Port Alberni, Port Hardy, Port McNeill, Qualicum Beach, Sayward, Sidney, Sooke, Telegraph Cove, Tofino, Ucluelet, Victoria & more.
The latest edition of the mapbook comes in a convenient 21.5 x 28 cm (8.5 x 11 inch) mapbook format with a heavy-duty spiral-bound cover. The 208 page book includes 56 maps at 1:150,000 scale and 7 maps at 1:300,000 scale, along with 10 Outdoor Adventure sections, a Service Provider Directory, Map and Adventure Index, Trip Planning tools and more. With over 89,000 kilometres of roads to view including the most complete logging and industrial road coverage available, the books are ideal for navigating on road trips and planning from home.
21.5 x 28 cm (8.5 x 11 in)"